Dental Crowns with CEREC in Aurora
A crown is a covering that sits over the top of the tooth creating a surface to protect, cover, seal and strengthen your tooth.? Crowns are used in many different scenarios as they are effective and often allow us to save a tooth rather than turning to implants.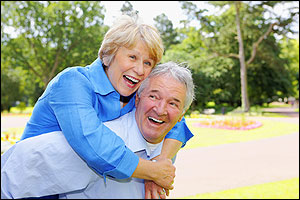 Situations where a crown may be the solution include:
Larger fillings that have broken down or have formed decay around them may need a crown to save the tooth.
A cracked tooth may need a crown to hold it together. Be careful not to wait too long as an untreated cracked tooth can become sensitive or eventually break.
Teeth that are very sensitive, either from a lot of 'wear', or from receded gums, sometimes require crowns to seal and protect the teeth from hot and cold sensitivity.
A tooth that has broken may be too weak to hold a filling. A crown will hold the tooth together and prevent it from breaking again. If the fracture is too deep, Root Canal Therapy may be required before the tooth is crowned.
A tooth that has undergone Root Canal Therapy will need a crown to properly seal and protect the tooth.
A crown may be the solution to saving that tooth; Aurora dentist Dr. Charles Weingarten and his Aurora dental team will evaluate your needs depending on your oral health and the condition of your teeth.<
Single Visit Porcelain Crowns in Aurora
For your added comfort and convenience Aurora dentists, Dr. Weingarten and Associates are pleased to offer you Dental Crowns in one appointment with CEREC's in-office design and milling system.

If your tooth is in need of repair, we understand the importance of treatment to eliminate any discomfort you are experiencing and to avoid future, more serious problems. Your oral health is our priority, yet we recognize that your busy lifestyle may not have room for repeat visits to our office. That is among the many reasons we have added single visit ceramic restorations using the CEREC by Sirona to the options we can offer you.
CEREC uses tooth coloured ceramic materials that are bonded to your teeth. This allows us to save more of your original tooth structure while creating a natural looking, strong and functional restoration. With the restoration being completed in a single visit there are fewer injections, less drilling, and less time needed in the chair.
This in office restoration design and milling ability allows us to perform many dental restorations in just one visit... At our Aurora dental office you can be in and out in a single visit with a permanent, all ceramic crown!