Welcome to Dr. Weingarten's Aurora Dental Office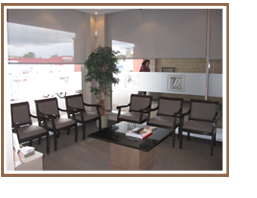 Family dentist in Aurora, Dr. Charles Weingarten and his team of Aurora dentists have been providing Family and Cosmetic dental care for over 20 years. The Aurora, Ontario dental office's team has been chosen for their skill, experience and love of dentistry, creating a comfortable atmosphere where you can expect excellence. In his ongoing effort to provide patients with the best available dental care, Dr. Charles Weingarten believes strongly in advanced training courses for both his skills and the regular upgrading of the office's dental equipment.
Dr. Weingarten's dental office is warmly accepting new patients in Aurora and the surrounding areas, and looks forward to make you smile.
Located in beautiful Aurora, Ontario, Dr. Charles Weingarten and Associates' Aurora dental office has been providing excellence in oral health care for over 20 years. We are pleased to offer our patients the highest standard of family dental care in a modern facility. Our Aurora dental team creates a comfortable, relaxed, family friendly atmosphere, whether you seek cosmetic services like dental veneers, Invisalign, or restorative services like dental implants. So book your dental appointment in Aurora today!